Diese Veranstaltung hat bereits stattgefunden.
CS Colloquium mit Douglas Hofstadter
3. Oktober 2017 @ 17:00

-

18:30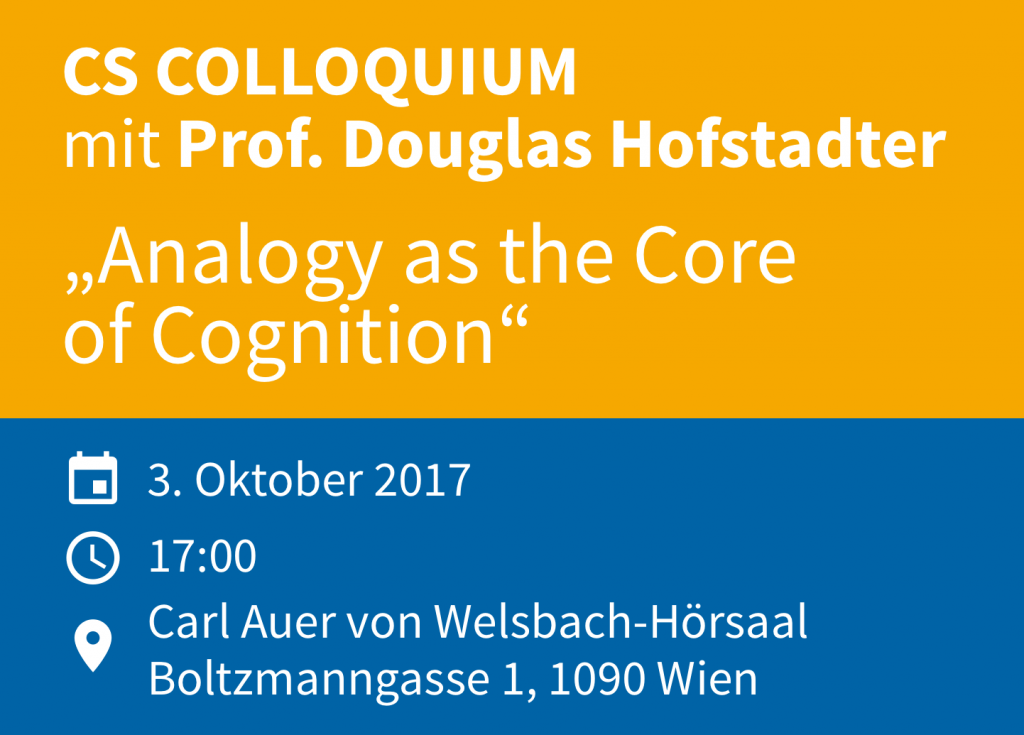 Die Fakultät für Informatik der Universität Wien hat im kommenden Wintersemester Douglas Hofstadter als Professorial Research Fellow in der Forschungsgruppe Cooperative Systems (COSY) zu Gast. Im Rahmen seines Wien-Aufenthalts wird der bekannte Kognitions- und Literaturwissenschafter aus den USA am 3. Oktober im CS-Colloquium der Fakultät einen öffentlichen Vortrag zum Thema "Analogy as the Core of Cognition" halten.
Download Einladung & Abstract: » https://is.gd/cs_colloquium_hofstadter 
mehr Information rund um die CS Colloquien  » https://informatik.univie.ac.at/cs-colloquium/
In seinem interdisziplinären Vortrag "Analogy as the Core of Cognition" – den er am Dienstag, 3. Oktober, um 17 Uhr auf Einladung der Fakultät zur Eröffnung des Wintersemesters hält – wird sich Douglas Hofstadter mit der Allgegenwart von Analogiebildung in unserem (auch alltäglichen) Leben beschäftigen und aufzeigen, wie solche Analogien – obwohl oft gar nicht als solche bewusst wahrgenommen – jeden auch noch so kleinen Winkel unseres Denkens und kognitiven Lebens bestimmen und uns somit eine fundamental neue Perspektive auf die wirkliche Essenz unseres Denkens eröffnen.
Über Douglas Hofstadter (Indiana University, USA)
Douglas Hofstadter (geboren 1945 in New York; B.Sc. Mathematik in Stanford, 1965; PhD in Physik an der University of Oregon, 1975) ist Professor für Kognitionswissenschaft und Vergleichende Literaturwissenschaft an der Indiana University in Bloomington (USA). 1984-88 war er Walgreen Professor for the Study of Human Understanding an der Universität von Michigan in Ann Arbor. Gastprofessuren führten ihn unter anderem an die Universität Bologna, das MIT und das Collège de France. Für sein Buch "Gödel, Escher, Bach" wurde er 1980 mit dem Pulitzer-Preis und dem American Book Award ausgezeichnet. Neben seinen wissenschaftlichen Studien interessiert sich Douglas Hofstadter leidenschaftlich für Sprachen (und bezeichnet sich selbst – mit einem Augenzwinkern – als "pi-lingual").