Diese Veranstaltung hat bereits stattgefunden.
CT-Talk mit Prof. Robert Tarjan
25. Januar 2019 @ 17:00

-

18:00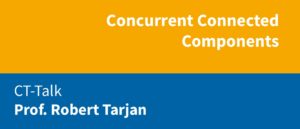 Die Fakultät für Informatik der Universität Wien freut sich, den Informatiker und Turing-Preisträger Robert Tarjan anlässlich seines CT-Talkes am 25.01.2019 begrüßen zu dürfen.
Prof. Robert Tarjan wird am 25.01.2019 um 17.00 im HS2 einen CT-Talk zum Thema "Concurrent Connected Components" halten: "Finding the connected components of a graph is one of the most basic graph problems. Although it is easy to find components sequentially using graph search or a disjoint set union algorithm, some important applications require finding the components of huge graphs, making sequential algorithms too slow. We describe recent progress on concurrent algorithms for this problem. Some simple algorithms seem surprisingly hard to analyze."
Robert Tarjan studierte am Caltech und an der Stanford University und arbeitete zunächst an der Cornell University. Anschließend zog es den Informatiker als Research Fellow an die University of California, Berkeley. Er war ebenso Professor für Informatik an der Stanford University und an der New York University. 1996 war er Gastprofessor am MIT. Seit 1985 ist er James S. McDonnell Distinguished University Professor of Computer Science an der Princeton University. Tarjan ist zudem Co-Director des National Science Foundation Center for Discrete Mathematics and Theoretical Computer Science.
Zusammen mit John E. Hopcroft wurde er 1986 für das Design und die Analyse von Algorithmen und Datenstrukturen mit dem Turing Award ausgezeichnet.
Zusätzlich zu seiner wissenschaftlichen Tätigkeit ist Tarjan für Hewlett-Packard tätig.
Verschiedene Algorithmen wurden nach dem Informatiker benannt, wie etwa der Algorithmus von Tarjan zur Bestimmung starker Zusammenhangskomponenten oder der Goldberg-Tarjan-Algorithmus zur Bestimmung eines maximalen s-t-Flusses. Außerdem führte Robert Tarjan die Datenstrukturen Splay-Baum und Fibonacci-Heap ein.
Robert Tarjan, zu dessen DoktorandInnen mitunter die an der Fakultät für Informatik tätige Monika Henzinger zählte, wurde 2018 von TheBestSchools.org zu einem der "50 Most Influential Living Computer Scientist" gekürt.