Der Adolf-Adam-Informatikpreis ist für Schüler und Studenten gleichermaßen interessant: Erstens werden damit hervorragende Masterarbeiten am Fachbereich Informatik der Johannes Kepler Universität Linz ausgezeichnet. Und zweitens entscheidet das Schülerpublikum direkt vor Ort bei der Preisverleihung, welche der vier präsentierten Arbeiten den mit 1.500 € dotierten Preis erhält.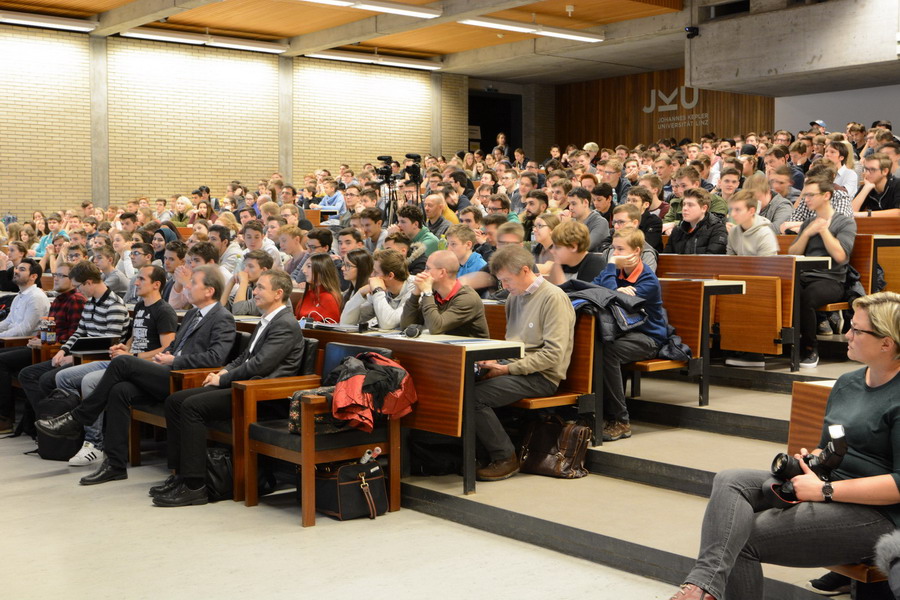 Die vier Finalisten für die Kurzpräsentationen am 20. Dezember 2018 stehen bereits fest, Plätze in der Schülerjury sind aber noch zu haben. Unter allen per SMS-Voting abgegebenen Stimmen wird  ein iPad verlost.
LehrerInnen, die mit ihren Schulklassen an der Präsentation und Prämierung teilnehmen möchten, können sich noch bis 9. Dezember per Email an informatikpreis@jku.at anmelden. Die Zahl der Plätze ist beschränkt, die Vergabe erfolgt nach Reihenfolge der Anmeldung.
Das sind die  Kandidaten für die beste Informatik-Masterarbeit an der JKU Linz des vergangenen Jahres:
Florian Jungwirth: EyeMazing – Das Auge als Interaktionsmöglichkeit der Zukunft
Florian Henkel: Mensch versus Maschine – Kann ein Computer wie ein Mensch lernen?
Lukas Ehrenfellner: Semicolon – Programme spielen oder spielend programmieren?
Philip Renz: Automatic Drug Design – Wer entdeckt die Medikamente der Zukunft?
Adolf-Adam-Informatikpreis Preisverleihung
Donnerstag, 20. Dezember 2018, 13:00 – 15:30
Johannes Kepler Universität Linz, Hörsaal 1 (Raiffeisenhörsaal)
Altenbergerstraße 69, 4040 Linz
Awards & Wettbewerbe für Informatik-Studierende
Neben dem Adolf-Adam-Informatikpreis gibt es österreichweit einige weitere interessante Awards und Wettbewerbe für InformatikstudentInnen:
Best of the Best: Die Fakultät für Informatik der Uni Wien zeichnet jedes Jahr die besten Studenten ihres Jahrgangs aus.
Epilog: Die Fakultät für Informatik der TU Wien zeichnet jedes Sommer- und Wintersemester ihre herausragenden AbsolventInnen der Masterstudiengänge aus.
VCLA International Student Awards: Das Vienna Center for Logic and Algorithms vergibt jährlich einen Preis an herausragende Bachelor- und Masterarbeiten in den Bereichen der Computational Logic, Databases and Artificial Intelligence und Verification.
Catalyst Coding Contest: Internationaler Programmierwettbewerb, der mit über 4.000 Teilnehmern mehrmals pro Jahr stattfindet und der mittlerweile der größte seiner Art ist. Der letzte Contest fand am 167. November 2018 statt.
Austrian Cyber Security Challenge: Österreichweiter IT Security Wettbewerb, veranstaltet von der  CyberSecurityAustria in Zusammenarbeit mit diversen Ministerien zur Identifikation, Förderung und Rekrutierung junger, IT-Security Spezialisten.
Sie kennen noch weitere Awards für Informatik-Studentinnen? Schreiben Sie einen Kommentar oder schicken Sie uns ein email an office@digitale-strategie.at, wir ergänzen dann die Liste.